Pay Your Utility Bill Online
Important Tax Information for Residents
Town of Leonardtown Property Taxes
---
Important Announcement Regarding Trash Collection Company
Goode Companies, Inc. has acquired the Town's trash contractor Affordable Refuse and Recycling, Inc.
Bulk Pickup Dates for 2019
March 7 and 8 2019
June 6 and 7, 2019
September 6 and 7, 2019
December 5 and 6, 2019
Water, Sewer, and Trash Service Information
IMPORTANT RECYCLING INFORMATION
All residents, please read!
Helpful Forms
Event Forms
Planning and Permit Forms
Utilities and Billing Forms
Proclamation Request

Visit Our Facebook Pages
Social Services for St. Mary's County


First Fridays In Leonardtown
First Friday of Every Month, 5pm - 8pm
Many shops, galleries and restaurants have joined together to celebrate First Fridays in Leonardtown. New businesses are joining the party every month! Join us for Art, food, shopping and socializing while exploring the nooks and crannies of Leonardtown. Visit the First Fridays website for detailed information.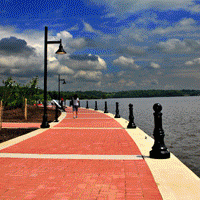 ---